Tricerabration 3: Chaos Theory
Date: Saturday, June 16
Time: 2pm-9pm
Location: Site Tres (consult your invitation)
So, What Exactly is a Tricerabration?!
We're glad you asked! It's a dinosaur-themed "backyard" barbecue, 65 million years in the making! A mix of food, fun, games, and activities — with dinosaurs, of course — Tricerabration is an all-ages summer potluck event held once every major geological period. So don't miss it!
What's at Tricerabration?
Burgers & Dogs
i.e. grilled dinosaurs, with rolls & condiments. Spared no expense.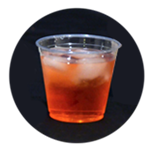 Beverages
Refreshing "swamp water," beer, and alcoholic mixed drinks (as poured by master bartender Anna).
Outdoor Games
Your favorite backyard games, with fun Tricerabration-twists! PLUS a chance to win prizes!
(see below)
Activities
Fun for kids and big kids alike: sidewalk chalk, coloring sheets, and a bounce house! (socks required)
Park Pack
RSVP by Sunday, June 3 to receive your own park name badge, and Tricerabration pin!
Dino-décor
Come for the food, festivities, and frivolity; stay for the prehistoric atmosphere!
A Dish To Pass
There are a lot of dinosaurs and humans to feed (or dinosaurs to feed to humans), so please bring a standard-sized dish to pass that can serve 6-8 people.
Something to Sit On
As with all prior Tricerabrations, dinosaurs have eaten all the seating, so please bring a folding chair or blanket on which to rest your butt.
Money for Donate-a-don
Our rare species of Donate-a-don is hungry! Please bring a suggested serving size of $5 per person to feed to her (she eats cash or many popular digital currencies).
A Specific Beverage
OPTIONAL
| We'll have alcoholic and non-alcoholic drinks available
(see above)
, but if you want a specific drink for yourself, feel free to bring it along!
Enjoy throughout the day, and practice your skills to win prizes at the Compy-tition!
(All games subject to change as the party-scientists run out of time and money!)
Raptor Egg Hunt
Collect as many eggs as you can before your opponents. Who knows what they might contain?
West Indian Lilac Berry Toss
Plop berries into poop piles to score the most points!
Electric Fence Kids
Take aim and send Timmy and Lex directly into the paddock fence! Bzzt!
Helicopter Jam
Crash your helicopter into the pterodactyl aviary more times than your opponents!
Tranquilizer Range
Help some angry dinos take much-needed naps by way of Nerf darts.
Mealtime Cornhole
Feed your dinosaur more leafy-greens or meaty-steaks than your opponent can!
Pin the Party Horn on the T-Rex
The Tricerabration classic returns with a new twist!
Ptera-Trivia
A fast round of team trivia about dinosaurs, Jurassic Park & Tricerabrations past!
Getting To Tricerabration
Site Tres
Please consult your invitation for the exact location of this year's Tricerabration festivities at Site Tres (pronounced "Trees"), located within Rochester city limits, on the East side.
Amenities
Power outlets for crockpots
Charcoal grill
Flush toilets just outside (handicapped accessible)
Parking lot
(Site Tres DOES NOT have a fridge, freezer, or sink)
Audio Tour
Let MAMA's House entertain you on your way to Site Tres! Download an audio tour for your automotive journey!
Coming in June, maybe!
Tricerabration FAQ
Everything you thought you should know but didn't want to ask OR everything you didn't want to know, but now you will.
Q: What is Tricerabration?
A: Tricerabration is a high-concept, low-key "backyard" barbecue… with dinosaurs. Guests arrive when they want, leave when they want; everyone brings a dish to pass, gets to eat and drink as they please, play outdoor games, and enjoy an afternoon amongst creatures of the Cretaceous.
Imagine your ideal "friends and family" Americana-inspired barbecue. Now remove those distant cousins you don't like, focus in on the backyard games and the hot dogs smoking on the grill. Take away the white picket fence, the nosy neighbors, the formalities, and add some dinosaurs. Now add some more dinosaurs. Oh gosh, that dinosaur is eating Aunt Rosie's hat! Get outta here Aunt Rosie! Add some dinosaur decorations, and a lot of dinosaur-compound-themed name badges. Oh, and there will be booze. But your original Americana vision had booze, didn't it? Of course it did.
Q: Why have Tricerabration?
A: It's a summer backyard barbecue that we can invite our friends and families to. It's a potluck barbecue, and there's dinosaurs. I'm not sure why you're asking. The answer seems obvious.
Q: This is the 3rd Tricerabration, isn't it?
A: Yes, this is Tricerabration 3: Chaos Theory. The first one was held in 2010 at the apartment known as MAMA's House on Winton Road. It was a glorious affair, attended by 20+ people. Tricerabration 2 was held at Site B(ees) in 2015 and was attended by 50+ people. To the best of our knowledge every human survived.
Q: Is this a "costume" party?
A: What party ISN'T?! Sincerely, if you want to wear a costume, we absolutely encourage it! The more excited you are, the better! But please also dress comfortably for an outdoor party in mid-June. If you theme your shirt / outfit / hat to Jurassic Park, you earn our raptor-respect. (But no, costumes are not required.)
Q: Can I bring kids?
A: Absolutely! Tricerabration is 75% kid-friendly! That other 25% contains alcohol or accidental curse words. We welcome guests between the ages of 1 and 101.
Q: What happens in the [IT WON'T HAPPEN] event of rain?
A: Site Tres was so chosen because it provides ample interior space. Nothing stops a good Tricerabration!
Q: Will I have access to my car during Tricerabration?
A: Depends. If you BRING your car, then yes. If you leave your car at home, then no. If you leave your car on Dorchester, consider it instantly destroyed.
Q: Should I have seen Jurassic Park recently before attending?
A: It's not mandatory, but it's recommended. A fair amount of our decorations reference the original movie. You'd have a perfectly fine time without remembering the movie, but we can't deny you'd probably have a slightly better time if you caught some of our references.
Q: What if I can't cook? Do I still need to bring a dish to pass?
A: Everyone is capable of buying a bag of chips. Or stopping at your local grocery store's prepared food section. Heck, some nuns once showed up to a party with a bag of McDonald's cheeseburgers, so ANYTHING goes!
Q: How many people should my dish-to-pass attempt to feed?
A: We recommend you make a pretty "normal"-sized dish to pass, like you'd bring to any family-backyard-barbecue. If everyone makes a dish that attempts to feed 50+ people, we'll have an insane amount of food and then we'll have to start feeding the dinosaurs instead of eating them. And we don't want that. We recommend your dish be able to feed 6-8 people.
Q: Should I bring a container that I don't want back?
A: Please do NOT leave your dish to pass with us! Site Tres is a carry-in, carry-out park. While we're deeply appreciative of anything and everything guests bring, we request that anything you bring with you ALSO leaves with you. But don't take the dinosaurs home with you. They bite back.
Q: Why aren't you having Tricerabration catered by Dinosaur BBQ? That seems like a pretty obvious tie-in, doesn't it?
A: Listen wise-guy, we thought of that. But catering is pricey. And so is maintaining a herd of angry dinosaurs so they don't eat our guests. We had to choose. We chose guest safety. Maybe next time we won't, okay?